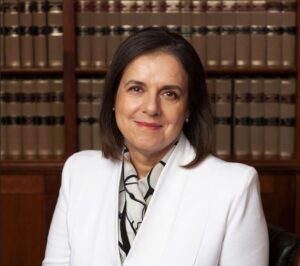 Admissions and Appointments
Appointed Senior Counsel: 2012
Admitted as a Barrister: 1997
Admitted as a Solicitor: 1988
Degrees and Qualifications
Bachelor of Laws (USyd)
Bachelor of Economics (Honours) (USyd)
e: nomchong@pghelychambers.com.au p: +61 2 9224 9787
Kylie obtained her LLB and B. Econ (Hons) from the University of Sydney. She worked as a tutor and part-time lecturer in the Department of Industrial Relations at the University of Sydney before commencing employment as a solicitor practicing in industrial law and personal injury.
In 1991, Kylie was appointed as in-house solicitor for Actors' Equity of Australia which later became the Media Entertainment and Arts Alliance. During that time she established her practice in industrial law and employment law.
Kylie came to the Bar in 1997 and was appointed Senior Counsel in 2012. Her practice is in discrimination law, employment and industrial law, workplace health and safety prosecutions, inquests, personal injury and medical negligence. Kylie has represented individuals, regulators, contractors, corporations, government departments, and unions. She has been appointed as independent investigator into workplace allegations and counsel assisting in coronial proceedings.
Kylie has been an active member in the legal profession, in legal education, mentoring (particularly for women coming to the Bar) and has been elected and appointed to a number of the governing and advisory bodies in the profession. Kylie was an elected member on the Council of the NSW Bar Association for many years. She was recently Vice President of the Australian Bar Association.
Kylie has a strong belief in social justice and human rights. She has presented numerous seminars, written articles and monographs and continues to present CPD and CLE papers on a range of issues.
Areas of Practice
Discrimination Law
Employment and Industrial Law
Workplace Health and Safety Prosecutions
Inquests
Personal Injury
Medical Negligence
Articles, Cases & Publications
Selected cases:
SafeWork NSW v BlueScope Steel (AIS) Pty Limited [2022] NSWDC 195
Alasady v Australian Capital Territory [2022] FCA 967
Wu v United Overseas Bank Ltd, Sydney Branch (No 4) [2022] FedCFamC2G 228 (1 April 2022)
Orr v Hunter Quarries Pty Ltd [2022] NSWCCA 39 (Prosecutor in a Stated Case from WHS prosecution)
Commissioner of the Australian Federal Police (on behalf of the Commonwealth) v Police Federation of Australia (Australian Federal Police Association Branch) [2022] FCA 272 (construction of enterprise agreement)
Friend v Comcare [2021] FCA 837 (statutory interpretation)
Inquest into the death of Jack Loh [2021] NSWCorC 78 (acting for NSW Department of Education)
Averil Devine v Westpac Banking Corporation [2021] FWC 739
Mahmood v Chohan [2021] FCA 973 (pro bono brief involving Foreign Diplomatic Immunity for an underpayment of wages claim by a former employee of the Pakistani High Commissioner)
LWB Disability Services South Limited t/as Life Without Barriers v Smith [2021] NSWCA 37 (appeal; employment law, interpretation of enterprise agreement)
Concept Engineering (Aust) Pty Ltd v UGL Unipart Rail Services Pty Ltd [2020] NSWDC 536 (indemnity costs)
Hughes trading as Beesley and Hughes Lawyers v Hill [2020] FCAFC 126 (Full Federal Court appeal – sexual harassment and aggravated damages); [2021] FCAFC 1 (indemnity costs)
Investigation commissioned by Ministry of Health referred to in Health Services Union NSW v Secretary of the Ministry of Health (on behalf of NSW Ambulance) [2020] NSWIRComm 1029
Concept Engineering (Aust) Pty Ltd v UGL Unipart Rail Services Pty Ltd [2020] NSWDC 536 (sexual harassment personal injury claim – costs)
Industrial Relations Secretary v Fire Brigade Employees' Union of New South Wales [2020] NSWCA 46 (NSW Court of Appeal – nature of overtime payments for firefighters on emergency callouts)
Public Service Association and Professional Officers' Association Amalgamated Union of New South Wales v Industrial Relations Secretary (on behalf of the Office of Environment and Heritage) and Australian Workers' Union, New South Wales [2020] NSWIRComm 1015 (demarcation dispute)
Orr v LakeCoal Pty Limited (In Liquidation) (No. 3) [2019] NSWDC 402 (WHS prosecution)
Burns v Corbett & Ors (High Court of Australia) [2018] HCA 15 (constitutional; jurisdiction of State tribunals)
Lyons v Queensland [2016] HCA 38 (5 October 2016) (the ability of a deaf person to act as a juror)
Orr v LakeCoal Pty Limited & Another (WHS Prosecution) [2019] NSWDC 178; and [2019] NSWDC 402
Orr v Newcrest Mining Limited [2018] NSWDC 370 – WHS fatality
Colefax v Secretary, Department of Education (No. 3) [2019] NSWIRComm 1000 & [2019] NSWIRComm 1017 and [2019] NSWIRComm 1017 (disability discrimination; employment)
Fair Work Ombudsman v Eastern Colour Pty Ltd [2016] FCAFC 187 (FWO appeal)
Atkins Freight Services Pty Ltd v Fair Work Ombudsman [2017] FCA 1134 (FWO appeal)
Inquest into the death of Braxton Slager (NSW Coroners Court, 2017)
Marroun v State Transit Authority [2017] NSWCA 273 (24 October 2017) (statutory interpretation – Industrial Relations Act, 1996 (NSW))
Hinton v Alpha Westmead Private Hospital [2016] FCAFC 107 (appeal -disability discrimination)
State of New South Wales v Shaw [2015] NSWCA 97 (17 April 2015) (statutory interpretation: Teaching Services Act)
Beckett v State of New South Wales [2015] NSWSC 1500 (malicious prosecution)
Endeavour Energy v CEPU [2016] FCAFC 82 (industrial dispute)
Darkinjung Local Aboriginal Land Council v Minister for Planning and Infrastructure & Anor; Australian Walkabout Wildlife Park Pty Limited (ACN 115 219 791) as Trustee for the Gerald
and Catherine Barnard Family Trust v Minister for Planning and Infrastructure & Anor [2015] NSWLEC 1465 (17 November 2015) (application for development of quarry & Aboriginal heritage claim)
Comcare v Commonwealth of Australia [2012] FCA 1419 (13 December 2012) (Federal WHS prosecution)
Nikolich v Goldman Sachs J B Were Services Pty Ltd [2006] FCA 784 (23 June 2006) (significant case in employment law)
Selected papers/publications:
Sexual harassment and the Judiciary, Judicial Officers Bulletin, published by the Judicial Commission of NSW, July 2020, Vol 32 No 6
Judicial Bullying: the view from the Bar, Judicial Officers Bulletin, published by the Judicial Commission of NSW, November 2018, Vol 30 No 10
'Vicarious trauma in the legal profession' (2017) Bar News: Journal of the NSW Bar Association
Compromise Settlements and Set-off under the Fair Work Act, 2009 (Cth) (Paper co-authored with Kerry O'Brien) 10 April 2019
Submissions to "Response to Gender Bias and the Law: Women working in the legal profession in NSW" co-authored with Ruth McColl SC, 1997
Enterprise Flexibility Agreements and threats to unions under the new Federal Act (co-authored with Jim Nolan) in Enterprise Bargaining: Trade Unions and the Law (Federation Press, 1995)
Selected Conferences/Seminar Presentation:
ABA Conference (Melbourne) – Panel Chair "Physical and emotional impacts in the legal professional of the uncertainty created by the pandemic" (29 April 2022)
Legalwise Seminar "Prevention of Discrimination in the Workplace" (30 March 2022)
ACT Bar Association Conference "Appeals" (5 March 2022)
Presentation with Judge Phillips, President of the Personal Injury Commission, to the Council of Administrative Tribunals Conference "Creating safe workplaces in Tribunals" (26 November 2021)
In-house presentation to judicial officers and commissioners in the Fair Work Commission – "Appropriate Courtroom Conduct" (9 September 2021)
In-house presentation to NSW District Court Judges Conference (with Justice Virginia Bell and Chief Justice Kourakis of South Australia) "Inappropriate Courtroom Conduct" (7 April 2021)
Reasonable Cause (Criminal Law) Conference "#Us Too? Bullying and Sexual Harassment in the Legal Profession" (27 March 2021)
In-house presentation to the Workers Compensation Commissioners "Appropriate Courtroom Conduct" (13 December 2020)
College of Law Seminar "Strategic Litigation – Interlocutory Motions" (21 March 2019)
Presentation with Ingmar Taylor SC to Seminar hosted in the Federal Court by Justice Bromberg "Availability of Judicial Review arising from Dispute Settlement Procedures in Industrial Instruments" (25 October 2018)
Government Lawyers Conference "Managing Underperformance and Misconduct In the NSW Government Sector" (24 March 2017)
Instructor at NSW Bar Readers Course (nearly every year since about 2010)
Mentor – as part of formal and informal mentorship programs at the NSW Bar
Liability limited by a scheme approved under Professional Standards Legislation.